06 July 2022
Expert panel in The Hague connects Dutch, European and global efforts to tackle AMR
Antimicrobial resistance (AMR) is a leading cause of death globally. While AMR threatens health systems everywhere, the heaviest burden is on low- and middle income countries (LMICs). The Access to Medicine Foundation launched a new report on appropriate access to antibiotics as a means of fighting AMR. Its findings were presented at an expert panel discussion in The Hague, organised by the Foundation in collaboration with Global Antibiotic Research and Development Partnership (GARDP).
Like COVID-19, AMR is a health security crisis that knows no borders.

Key themes discussed during the event were AMR as a global health security crisis, innovative partnerships to overcome market hurdles, and ensuring global access to antibiotics and antifungals.

A new report by the Access to Medicine Foundation includes six case studies and tailored recommendations to pharmaceutical companies and governments to fight AMR.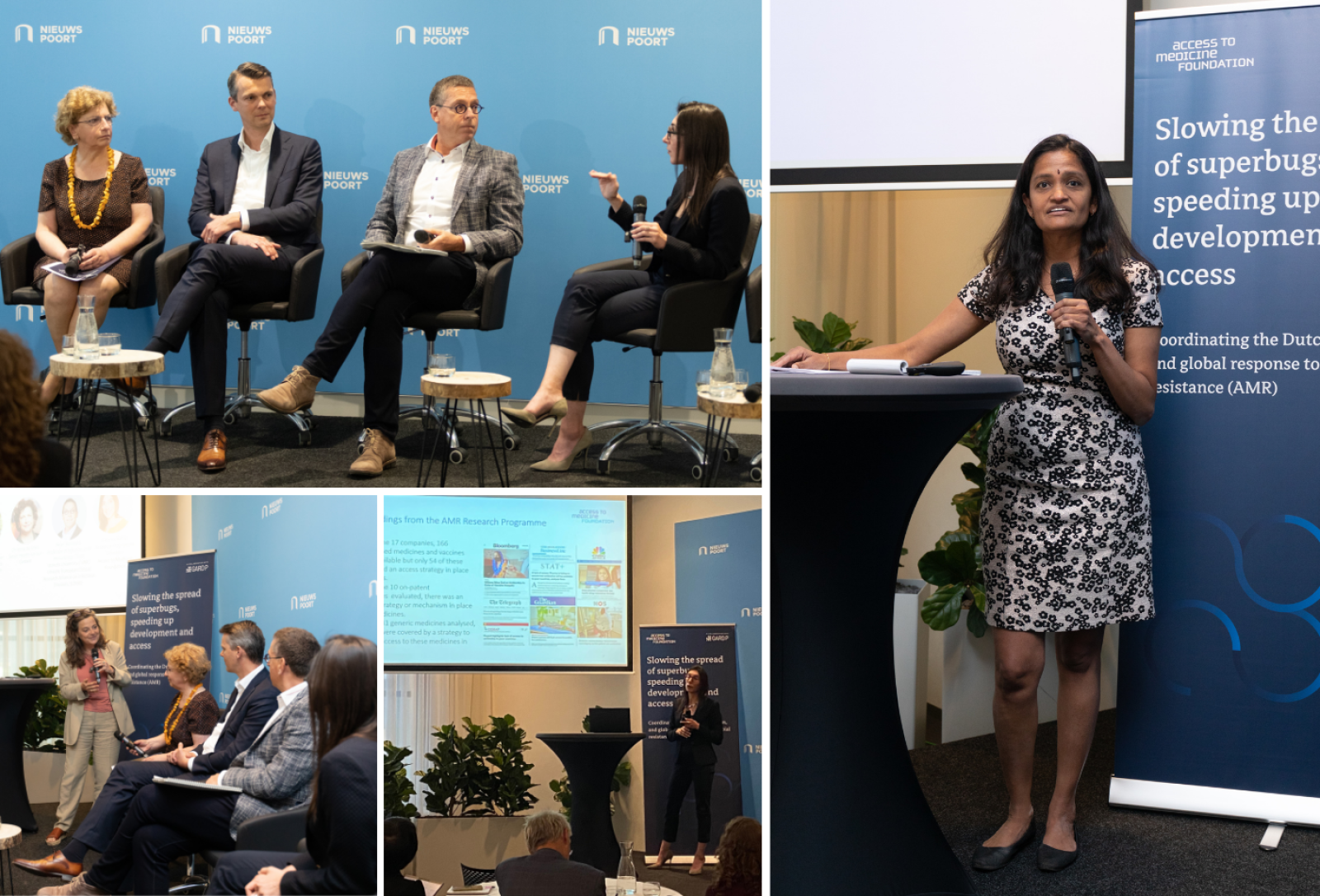 On 28 June 2022, leading stakeholders from the AMR field convened to discuss the integration of Dutch, European and global efforts on antimicrobial Research and Development (R&D) and appropriate access to antibiotics and antifungals. The event consisted of two parts: expert presentations and an interactive panel discussion moderated by Constance Schultsz, Professor of Global Health at the University of Amsterdam. 
The main themes discussed were:
AMR as a global health security crisis

Innovative partnerships to overcome market hurdle

Ensuring global access to antibiotics and antifungals
Fatema Rafiqi, Research Programme Manager at the Access to Medicine Foundation, presented key findings from the Foundation's latest report, titled "Lack of access is a major driver of drug resistance. How can pharma take action?". The study highlights the broad range of tools that are available for companies to increase access to essential antibiotics in poorer nations. In many cases, implementing these tools requires governments and multinational organisations to work alongside drug companies to overcome commercial obstacles. 
Other participants presented and discussed innovative solutions, such as Takuko Sawada on the new collaboration by Shionogi, GARDP and Clinton Health Access Initiative (CHAI) - still in its early stages - to increase access to the novel antibiotic cefidericol in 135 low- and middle-income countries (LMICs). The partnership shows a potential path for new medicines to reach patients around the world. Sian Williams from the Wellcome Trust presented the Global Research on Antimicrobial Resistance (GRAM) report, the most comprehensive study yet of AMR globally, and GARDP's Jennifer Cohn discussed the value of partnerships in advancing R&D and improving access to new antibiotics in LMICs. 

COVID-19 has shown us that pathogens know no borders.
AMR is a global health security risk, overly affecting vulnerable populations
Drug-resistant infections are a leading cause of death globally – with 1.27 million deaths caused by AMR in 2019 alone – threatening health systems and economies everywhere. Vulnerable groups like neonatal children, the elderly, and people living in resource-limited settings are hardest hit by drug resistance, yet they also have the greatest lack of access to treatments. Research confirms that AMR is not only a growing health security concern for lower- and middle-income countries, but also high-income ones like the Netherlands and other European countries. "Research shows how quickly infections can spread around the world. AMR is not an 'us versus them' problem, it is a global problem, we all need to step up. Data on the urgency of the issue and the possible solutions are there, so now is the time," said Jayasree K. Iyer, CEO of the Access to Medicine Foundation.
Innovative partnerships are critical at all stages of the pipeline
Participants agreed that innovative approaches are required to support the antibiotic market and resolve issues related to a small pipeline of new antibiotics, difficultly conducting clinical trails, and a complex and fragmented supply chain. "Connecting the dots in the product-development life cycle is something that is not easily done, we need more coordination," said Cornelis Boersma, Executive Board Member at the Netherlands Antibiotic Development Platform. Evidence-based action by public-private partnerships is one way to overcome market hurdles, as identified in the Foundation's recent report. Panellists emphasised that partnerships should start at the early stages of developing new drugs and run through to the end of the supply chain, delivering much-needed older and essential replacement antibiotics to patients. High-income countries can play a central role in speeding up clinical trials, working together in partnership to shorten the time that novel antibiotics take to be available in LMICs. 
A focus on access to antibiotics is needed, including the 'last mile'
Efforts to address AMR have traditionally been focused on safeguarding the sustainability of existing drugs and the development of new drugs. However, access to antibiotics across the globe should be equally prioritised. Current inequities need to be solved as a matter of urgency - patients everywhere should have access to older, generic medicines as well as innovative treatments. Access to antibiotics serves as a measure of the functioning of a health system, and solutions that drive sustainable access to them can be used for other global health concerns.

Christina de Vries, Senior Health Advisor at Cordaid, talked about her experience on the ground working with vulnerable patients: "Maternal sepsis is the third major cause of maternal deaths in low- and middle-income countries. Yet there is a lack of antibiotics, and quality is often not guaranteed or not controlled. If you can assure the quality and range of antibiotics that reach the 'last mile', that will be a litmus test for the whole health system."
No single country, company or organisation can fight drug resistance alone. It can only be done in partnership.
Next steps
The Access to Medicine Foundation will use the insights from this expert panel discussion in our future engagements with companies and other stakeholders to maintain the momentum around fighting AMR and draw attention to the importance of viewing AMR within the context of global health security. The conversation will also inform two upcoming data-driven research reports on AMR. These studies, part of our AMR Research Programme, will dive deeper into 1) Research and Development; and 2) Responsible manufacturing of essential antibiotics.
If you're interested in our future events, click here or get in touch with Camille Creisson at events@accesstomedicinefoundation.org.