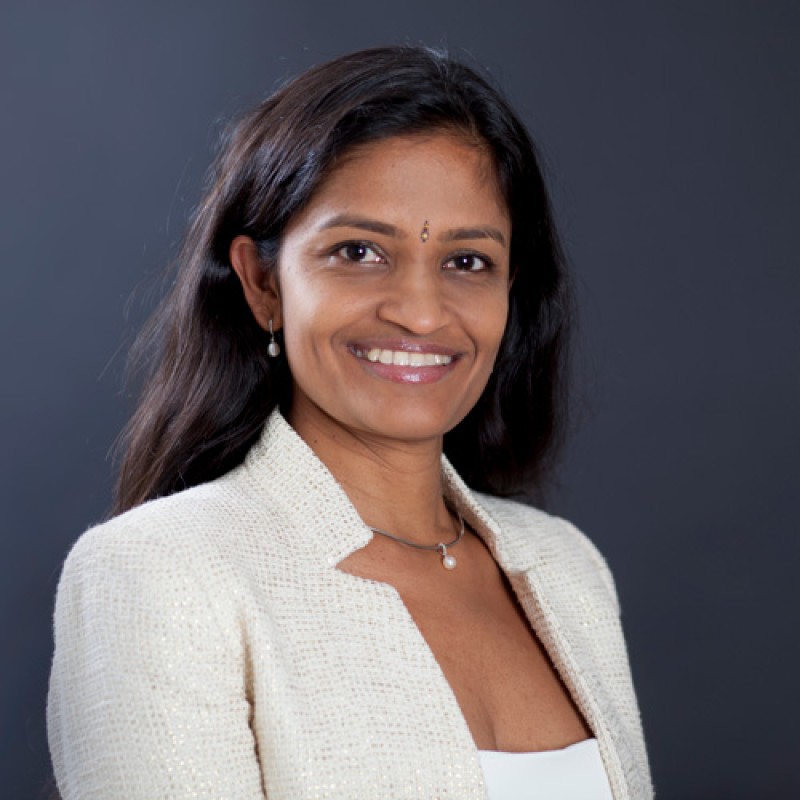 Chief Executive Officer
Jayasree K. Iyer
As CEO, Jayasree K. Iyer sets the Foundation's strategy for assessing the efforts of healthcare companies to ensure their products reach more people around the world. In her discussions with global industry leaders, she engages them on the practical, effective steps they can take to develop, scale up and supply essential health products to the people living in low- and middle-income countries (LMICs) who account for approximately 80% of the global population.
Since 2015, Jayasree has led the expansion of the Foundation from a small initiative into a dynamic, changemaking organisation that produces rigorous research and insights on urgent issues of access and affordability across five essential healthcare sectors. Driving change in the global healthcare system requires a diverse group of healthcare companies to take decisive action. Jayasree's expertise lies in engaging with CEOs and other high-level stakeholders on the biggest issues in access and health, highlighting key opportunities and challenging companies to step up access initiatives as part of their business operations. 
In her role as the Foundation's CEO, Jayasree also connects the organisation's research insights with people, companies and global health organisations that are working to improve access to medicine. She addresses complex, contentious topics such as drug pricing and intellectual property (IP) management, as well as how to align industry research priorities with the areas of greatest need to people globally, including the development of replacement antibiotics and child-friendly medicines.  
She is regularly invited to bring these insights and her perspective forward in top-level discussions, including at the United Nations, the World Economic Forum, the World Health Summit, the World Health Organization and investor forums. Using her independent expertise, she takes the conversation beyond the conventional positions. Her viewpoints have been published in outlets including the Financial Times, Fortune, The Lancet, and Project Syndicate, and she often speaks with global media such as the Guardian, CNBC Africa, STAT, the Hindu and Die Welt. 
Before joining the Foundation, Jayasree developed and managed a large portfolio of public-private partnerships between the pharmaceutical industry and its partners, totalling a budget of over €100 million. These partnerships addressed cancer, immunology and neglected tropical diseases. Jayasree is an infectious disease scientist by training and holds various postgraduate degrees (Masters and PhD), from the Johns Hopkins School of Hygiene and Public Health and Nanyang Technological University in Singapore. She is based in the Netherlands, where she lives with her husband and two young sons.