10 July 2020
Will COVID-19 harm or help pharma's access to medicine efforts, asks 2021 Access to Medicine Index
The next Access to Medicine Index will be published in January 2021 – one year after China imposed the first lockdown to control COVID-19. The 2021 Index will capture how the world's largest pharmaceutical companies are responding to COVID-19, particularly when it comes to pandemic preparedness. It will also assess their access-to-medicine programmes more broadly, including for HIV/AIDS, malaria, TB, diabetes and cancer.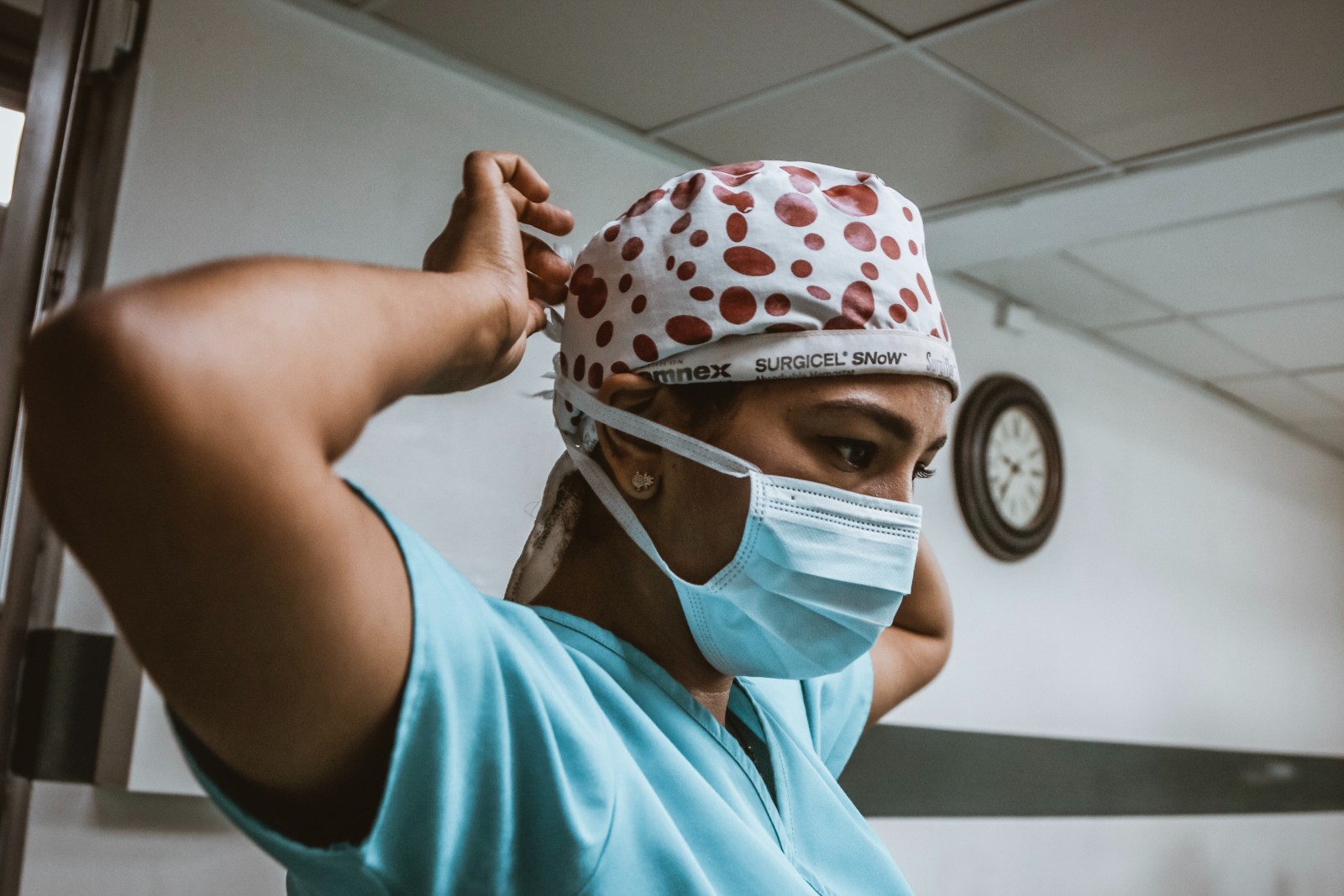 Editor's note: Updated on 8 December 2020.
In January 2020, the first cases of COVID-19 were being reported outside of China, while the research team for the Access to Medicine Index was looking at the first data for the next Index report. By March, Index researchers were hearing first-hand how pharma companies' access teams were adapting to the massive shift in global health priorities triggered by the pandemic.  

"It was clear that companies' responses were hugely varied," says Marijn Verhoef, Company Engagement Manager at the Access to Medicine Foundation. "We were hearing how access teams' efforts were being re-directed to prevent and manage potential shortages caused by border closures, for example."
At the same time, industry and academic research groups were racing to develop new treatments and vaccines targeting COVID-19. Now that the pipeline is somewhat fuller, the conversation is pivoting to questions around access to medicine. "When those new products leave the pipeline, ensuring they are made widely accessible is the central issue, as in the current debate around the fair allocation of vaccine candidates,"  says Marijn. 

To capture a detailed analysis of pharma industry's performance on access to medicine, the Foundation plans to publish the the next Access to Medicine Index in January 2021. 
The 2021 Access to Medicine Index analyses companies' actions to improve access to medicine for a total of 82 diseases, conditions and pathogens, including common killers such as lower respiratory infections, diarrhoeal diseases, heart disease, dengue and others. For these 82 diseases, people in low- and middle-income countries face more than 80% of the global burden of disease.

The Foundation's 10-Year Analysis of pharma companies' actions on global health found evidence of progress over the past decade, most notably in R&D, and in how companies approach access to medicine. Yet overall, companies' activity concentrates on a few diseases and countries.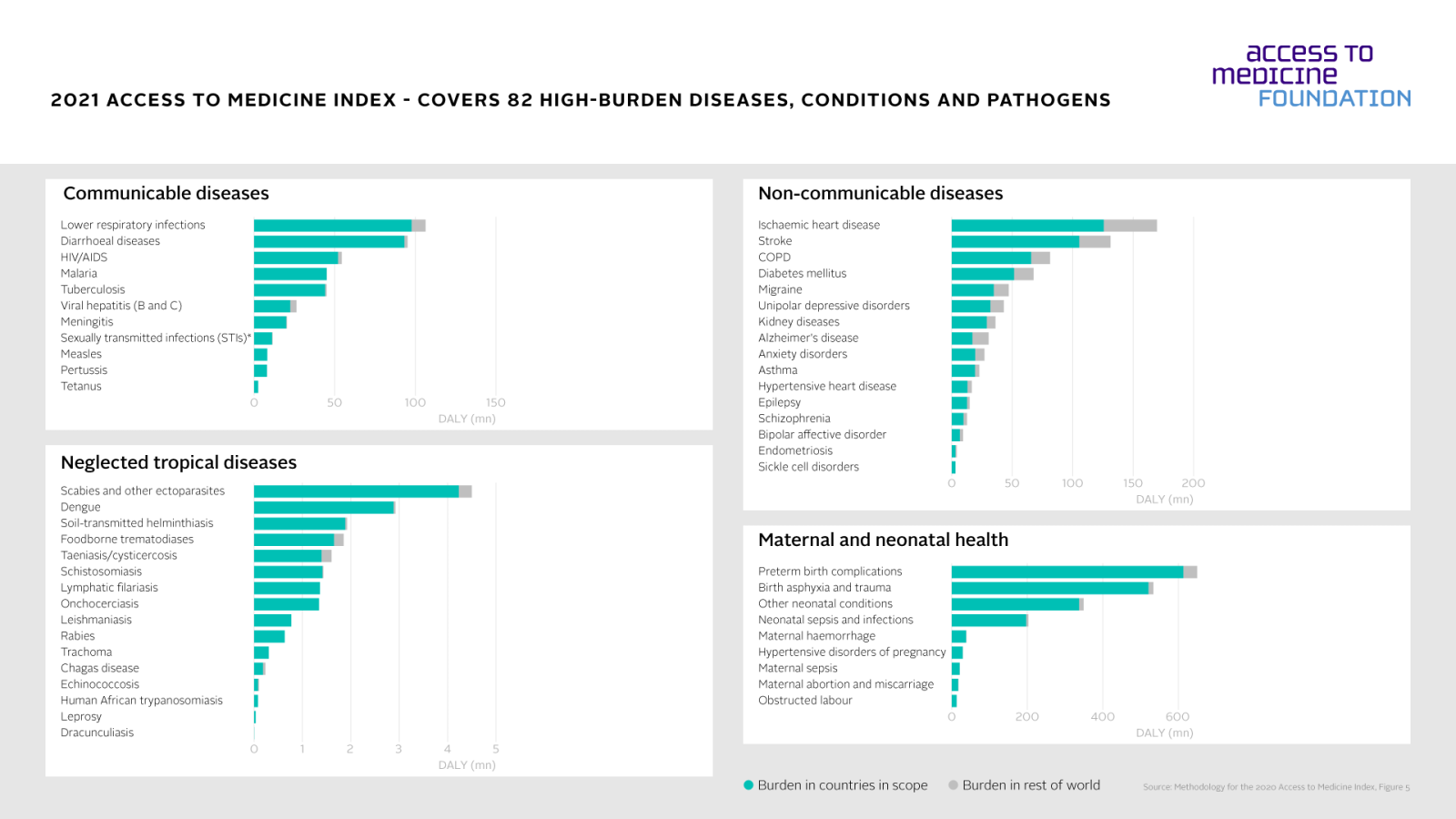 The Index covers the full breadth of the pharma industry's role in developing and providing access to medicine, starting with governance, strategy and compliance, on to R&D, and running through questions on pricing, licensing, donations, capacity building and supply. Published every two years since 2008, the Index compares how the world's largest pharmaceutical companies address access to medicine in low- and middle-income countries.
COVID-19 underscores materiality of access issues for pharma investors 
For investors, it is clear that COVID-19 is pushing access-to-medicine issues up the agenda in their engagement with pharma companies. "COVID-19 has placed stress on pharma business models, through a mix of low growth potential and risk to reputation," says Mara Lilley, Investor Engagement Manager at the Foundation. "This has underscored why access-to medicine issues are material for the long-term sustainability of the pharmaceutical sector and beyond, and why poor access to medicine is a systemic issue." 

Mara continues: "As responsible stewards, investors are engaging on the need for pharmaceutical companies to reinvest in infectious disease R&D and vaccines rather than taking a more short-term focus on the most profitable medicines."

The first round of data collection for the next Access to Medicine Index is now complete, and the Index research team is preparing to cross-check and verify the diverse data points before scoring companies on their performances across the 33 separate indicators. 

What the 2021 Access to Medicine Index will cover
The 2021 Access to Medicine Index is based on a new analytical framework of three Technical Areas, divided into 14 priority topics for corporate activity. Per area, companies' policies and practices are measured by indicators that correspond to pharmaceutical companies' core role for improving access to medicine. This role centres on the development and equitable delivery of health products, while ensuring appropriate management of access and responsible business practice. The indicators have been developed through an extensive stakeholder dialogue, informed by ten years of methodology development. The result is a set of ambitious yet achievable expectations of pharmaceutical company behaviour.
In the next Index
Pharma's response to COVID-19: Exploration of companies' different responses to the 2020 pandemic, including case studies in, for example, medicines and vaccines R&D, efforts to pool and/or scale up manufacturing capacities, fair pricing actions, licenses to enable generic versions to enter the market, emergency relief donations programmes and capacity building initiatives.
Trend and progress analysis: The Foundation's 10-Year Analysis, published in 2019, will be updated in 2021 to show whether pharmaceutical companies are changing how they respond to global health priorities and to provide the broader context to the response to COVID-19.
Tailoring of access strategies: The next Index will map how pharmaceutical companies are tailoring their pricing, licensing and donations actions to specific market conditions, backed up with examples of best practice and analysis.