15 November 2022
Index finds more pharma companies moving to address access to medicine. Will they now go further?
The 2022 Access to Medicine Index finds that since the COVID-19 pandemic hit, more pharmaceutical companies have stepped up to make some of their products more widely accessible in low- and middle-income countries (LMICs). If the pandemic is to be a turning point in the fight for equitable access to medicine, companies must now scale their efforts to cover more products in their portfolios, and in a greater number of countries.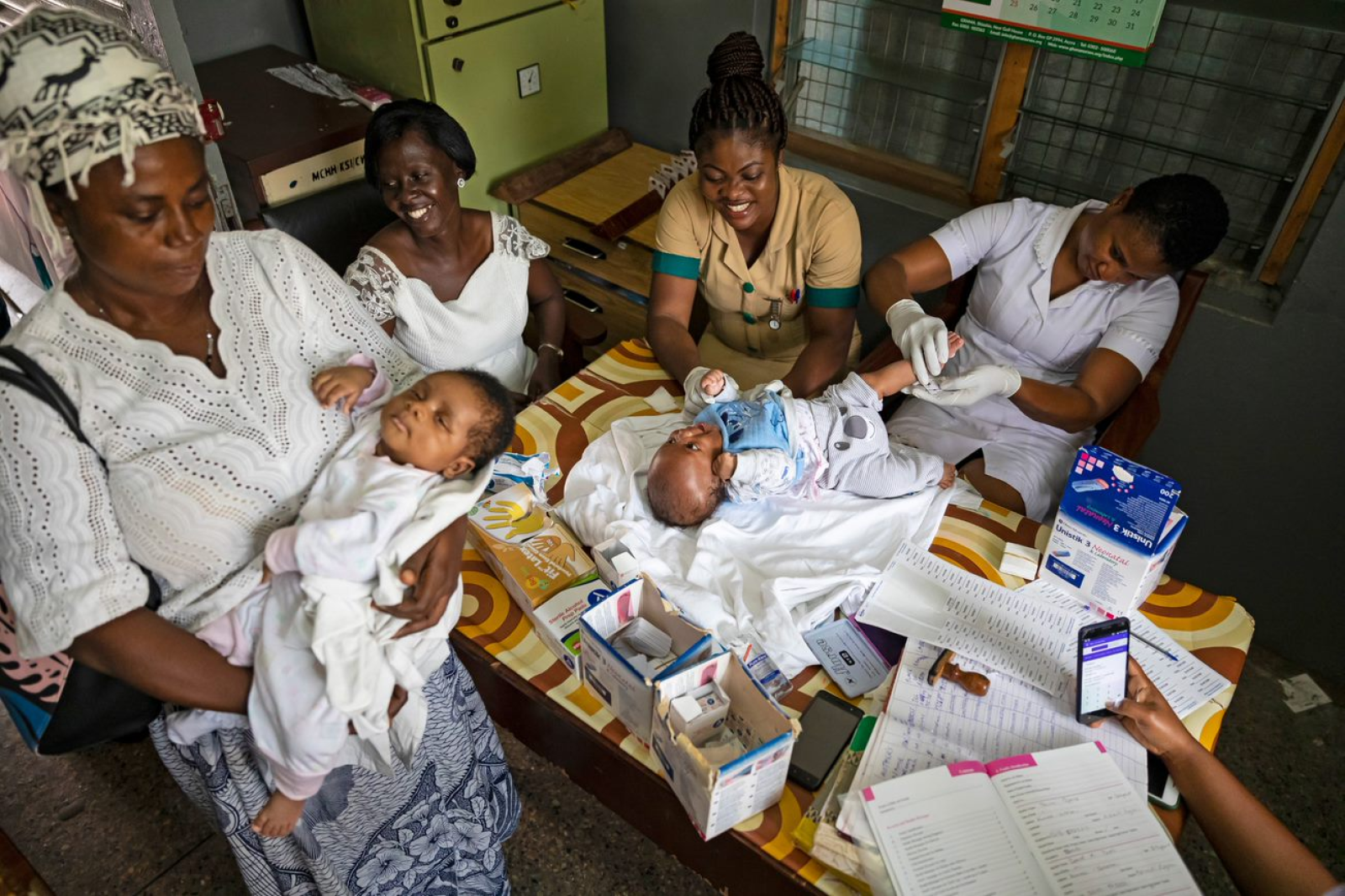 Findings of the 2022 Index
Topping the ranking
GSK retains the top spot in the Index ranking, newly joined by Johnson & Johnson in second and AstraZeneca in third.
Access plans for R&D projects
For 77% of projects nearing the end of the R&D pipeline, companies now have a plan in place to promote access after product launch, compared with 40% in the previous Index.
Voluntary licensing
Three more companies now engage in at least one voluntary licence, with Novartis signing the first licence covering a product for a non-communicable disease.
Access strategies for existing products
Of the products assessed from across the companies' portfolios 83% covered by an access strategy, rising from 58% in the previous Index.
COVID-19 & emerging infectious diseases
Despite the rapid and effective R&D response to COVID-19, there has been global inequity in vaccine rollout, and R&D for emerging infectious diseases remains insufficient.
As the world emerges from the worst of the COVID-19 crisis, pharmaceutical companies are now at an important juncture, where lessons learned from the pandemic can prove pivotal in finding solutions to bridge long-standing gaps in access to medicine in low-and middle-income countries (LMICs). The 2022 Access to Medicine Index shows that more companies have stepped up and moved in the right direction – including some companies that were previously less likely to take action.  
2022 Index identifies uneven progress
For the first time, all 20 companies in scope report an access-to-medicine strategy, with 19 integrating this into their overall corporate strategy. The Index also finds examples of companies that are increasing access and strengthening delivery of their products in LMICs, with GSK, Pfizer and Takeda standing out. In addition, more companies have engaged in voluntary licensing agreements, making their on-patent products available for generic manufacturing.
However, low-income countries are still widely overlooked in comparison to middle-income countries. While some companies do now report ambitious new commitments in these countries, these must now be translated into action.
"Pharmaceutical companies have responded to the inequity in access to medicine laid bare by COVID-19 – including committing to addressing this in many countries. If they can deliver on these ambitions and reach patients quickly and broadly, it will be a breakthrough in solving persistent gaps in global health equity."
More access plans in R&D 
To ensure people in LMICs have access to new and innovative medicines and vaccines as soon as possible after they are launched, companies ideally need to have an access plan in place for products as they near the end of the R&D pipeline.
Six companies – Astellas, Boehringer Ingelheim, Johnson & Johnson, Merck, Novartis, and Takeda – now have access plans in place for all of their late-stage R&D projects, marking the first time any of the 20 companies have reached this milestone.
While this progress is encouraging, only 15% of access plans across the companies in scope include one of the 27 low-income countries, with the 26 upper-middle income countries far more likely to be considered in companies' access plans for an R&D project. 
Voluntary licence for a cancer treatment could set a precedent
The 2022 Index finds companies are increasingly engaging in voluntary licensing, enabling generic medicine manufacturers to develop and manufacture generic versions of their on-patent medicines. During the period of analysis (1 June 2020 – 31 May 2022), six companies entered into new voluntary licensing agreements, three of them for the first time: AstraZeneca, Eli Lilly and Novartis. Such agreements can increase regional availability, supply and affordability of new and innovative medicines that would otherwise not reach people living in many LMICs.
While much of this trend is driven by companies engaging in voluntary licensing for COVID-19 products, it opens the door for more companies to consider entering licences for a wider range of medicines, including novel therapies and products for non-communicable diseases (NCDs). Novartis's non-exclusive voluntary licence for a leukaemia medicine with the Medicines Patent Pool – the first such agreement covering an NCD – is significant.
AstraZeneca rises to the top three, Merck joins the top five  
The Access to Medicine Index ranks 20 of the world's leading research-based pharmaceutical companies on their actions to improve access to medicine in 108 LMICs. These companies account for more than half of global pharmaceutical revenue, with pipelines, portfolios, resources, and global reach that give them the unique capacity to develop and market the health products that people in LMICs need. 
Although GSK retains the number one spot, it is by a very narrow margin ahead of Johnson & Johnson, which has moved up from third in 2021. AstraZeneca has newly joined the top three, having risen from the seventh spot in the previous Index.
For the first time, Bayer has joined the top ten, improving its performance in R&D – with the broad geographic reach of its R&D plans highlighted as a best practice in the 2022 Index. Another key mover is Merck, which joins the top five.
"The 2022 Index finds that industry-wide improvement in planning for access and expanding access strategies still overlooks low-income countries. Companies must consider the depths of their plans, strength of their supply chains, and equity of their pricing strategies to reach the most vulnerable populations."
R&D for emerging infectious diseases that could trigger next global health crisis 
Successive editions of the Index show that prior to the COVID-19 pandemic, pharmaceutical companies were largely not engaging in R&D for emerging infectious diseases (EIDs), including coronaviruses that had already been identified as having pandemic potential.
Unfortunately, the 2022 Index finds that the pipeline for R&D projects covering EIDs (excluding COVID-19 and other coronaviral diseases) has remained mainly empty. Only five of the 20 companies in scope – Bayer, Johnson & Johnson, Merck, MSD and Takeda – are active in this area, and they target a small number of EIDs that are seen as being able to trigger the next pandemic or serious epidemic. 
More in the Index
Key Findings: Three essential takeaways from the 2022 Index.

Special Reports: Cross-cutting analysis on three topics: COVID-19 and pandemic preparedness, women's sexual and reproductive health, and an assessment of progress by the companies over time.

Ranking and Trends: How companies score and compare, and trends that can be identified across the industry.

Best Practices: Specific examples of what companies are doing right, and precedents they set for others to follow.

Topic-by-topic analysis: An in-depth look at the data on companies' actions in Governance of Access, R&D, and Product Delivery.
Company Report Cards: Detailed overview of each of the 20 companies' performances, and opportunities for improvement.
About the Access to Medicine Index
The Access to Medicine Index analyses 20 of the largest research-based pharmaceutical companies with products for high-burden diseases in low- and middle-income countries. It ranks them on their efforts to improve access to medicine, identifies best practices, highlights where progress is being made and uncovers where critical action is still required. The Index is endorsed by 134 investors, collectively managing assets worth over USD 21 trillion. It is published every two years by the Access to Medicine Foundation, an independent non-profit organisation funded by the Dutch and UK governments, the Bill & Melinda Gates Foundation, the Leona M. and Harry B. Helmsley Charitable Trust, and AXA Investment Managers.