06 October 2020
2021 Benchmark framework to track pharma's progress against superbugs
The rise of treatment-resistant bacterial and fungal diseases poses a direct threat both to modern medicine and our way of living. The Antimicrobial Resistance Benchmark provides the only independent measure of how pharmaceutical companies are responding. The methodology for 2021 prioritises the tracking of progress and a deeper exploration of the headwinds faced by biotechs driving novel R&D.
Drug resistance threatens all areas of healthcare, from surgery to safe childbirth. Globally, around 700,000 people die each year from antimicrobial resistance (AMR). Moreover, there are fewer experimental projects in the early-stage pipelines than in the 1990s. Plus, the impact of COVID-19 on AMR is as yet unknown, with fears that widespread use of antibiotics to prevent secondary COVID-19 infections may further drive AMR. 

A core group of pharmaceutical companies is making progress against antimicrobial resistance (AMR), as reported in the 2020 Antimicrobial Resistance Benchmark. However, the 2020 report notes that change is not yet happening at the scale needed.
"We are seeing action by the pharma industry against AMR. The next Benchmark report will enable us to keep a steady eye on whether companies are taking up their full roles – as well as on the factors that may be stopping progress," says Fatema Rafiqi, Research Programme Manager for the AMR Benchmark.

For the 2021 AMR Benchmark, changes to the analysis scopes and indicators have been kept to a minimum, enabling the research team to assess the rate and scale of progress.

In a change from previous years, the Benchmark will publish a dedicated report exploring the actions and unique role of small- and medium-sized enterprises (SMEs) in limiting AMR.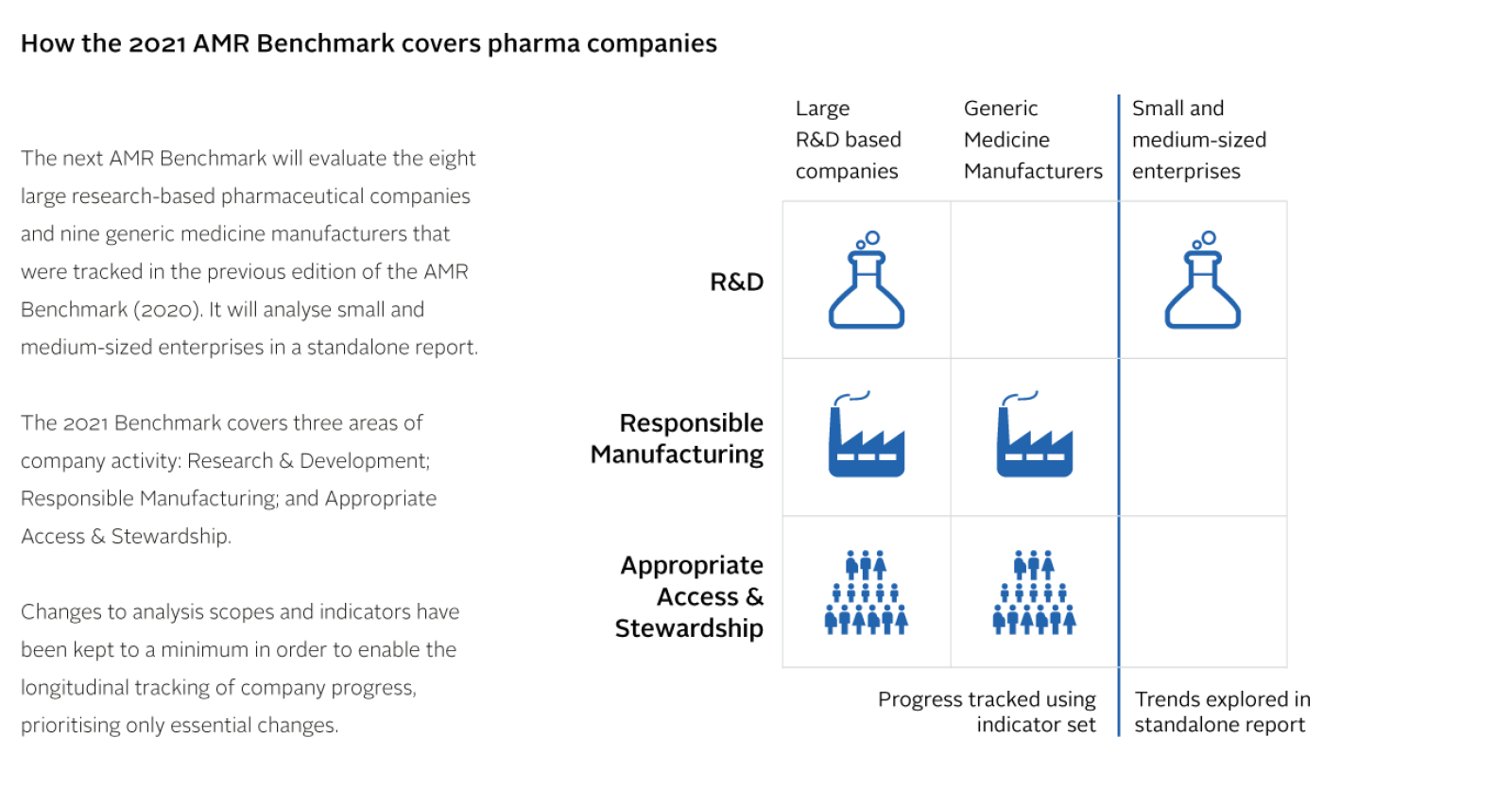 In-depth assessment of action by SMEs
The AMR Benchmark tracks companies with a major stake in this space, and which are actively developing and/or supplying antibiotics and antifungal medicines.
Compared to large research-based companies and generic medicine manufacturers, SMEs are often dedicated to R&D with few products on the market. As a group, they lead in novel antibiotic and antifungal R&D, yet often have limited capacity to run sizeable clinical trials. They face serious headwinds when it comes to arranging finance and navigating a volatile and uncertain market. 
"A standalone SME report will enable us to provide a deeper contextualisation of the current state of innovation on new antimicrobials developed by SMEs, including case studies," says Fatema.
Analysis scopes for 2021
The Benchmark builds consensus on how pharmaceutical companies can and should respond to AMR, and uses this as a benchmark for evaluating their actions in relation to specific pathogens and populations:
Research Areas
Research & Development;
Responsible Manufacturing
Appropriate Access & Stewardship
Companies
8 large research-based pharmaceutical companies
9 generic medicine manufacturers
Cohort of small and medium-sized enterprises (SMEs) focused on antibacterial and antifungal R&D (not scored, will be evaluated in standalone report).
Diseases
Antibacterial and antifungal infections
Countries
In metrics relating to access, the Benchmark focuses on 102 resource-limited countries with high burdens of disease.

Market conditions continue to discourage investment
Poor financial returns are forcing companies to retreat from antibiotic development. To keep them engaged, the market needs to change. A viable economic environment will help to create robust pipelines, build capacity and supply, and ensure equitable access. Governments, philanthropy and industry are contributing billions to fund R&D for replacement antibiotics and vaccines, but this does not match the scale of the challenge. Much is directed to early research, yet later stages of development are more costly, as are manufacturing, supply chain activities, commercialisation and regulatory requirements. 
The Benchmark recognises pharmaceutical companies publicly for their actions and commitment to antibacterial and antifungal markets. In identifying needs for greater investment, engagement and political weight, it informs stakeholder strategy to influence industry and secure their deeper engagement. Through examples of good practice, it enables each company to challenge itself to improve.

Methodology reflecting consensus
The methodology for 2021 has been refined through a targeted review of the framework, which included checks of indicators, data sets and analytical approaches, and consultations with expert stakeholders. A committee of independent experts (including academics, investors, public sector and industry representatives) reviewed and ratified the methodology.
The Access to Medicine Foundation is now in the process of data collection, verification, scoring and analysis for the next AMR Benchmark, to be published in early 2021. The first report, as part of the AMR Benchmark research programme, will focus on small- and medium-sized enterprises, and the second on the performance of large research-based pharmaceutical companies and generic medicine manufacturers.

"An AMR pandemic can still be stopped if we act now; we know which actions to take, including by pharmaceutical companies, and which pathogens to target. By fixing the fundamentals of healthcare systems, and by pushing for new antibiotics and vaccines, we can avert the next big superbug pandemic," says Jayasree K. Iyer, Executive Director of the Access to Medicine Foundation