Sustaining access to liquid medical oxygen in low- and middle-income countries
On Thursday 13 October, the Access to Medicine Foundation, in collaboration with Chatham House, will convene a roundtable discussion with the aim of developing consensus on areas where progress needs to be made to ensure liquid medical oxygen is accessible for all for years to come, and not only once an emergency already hits.
Format
Virtual multi-stakeholder roundtable discussion
Briefing
The outcome of this roundtable discussion will be captured in an anonymised meeting report to be published after the event.
This high-level roundtable discussion will bring together experts from the medical gas industry, global health organisations and research institutes to identify solutions to ensure sustainable, continuous, affordable access to liquid medical oxygen (LOX) in low- and middle-income countries (LMICs).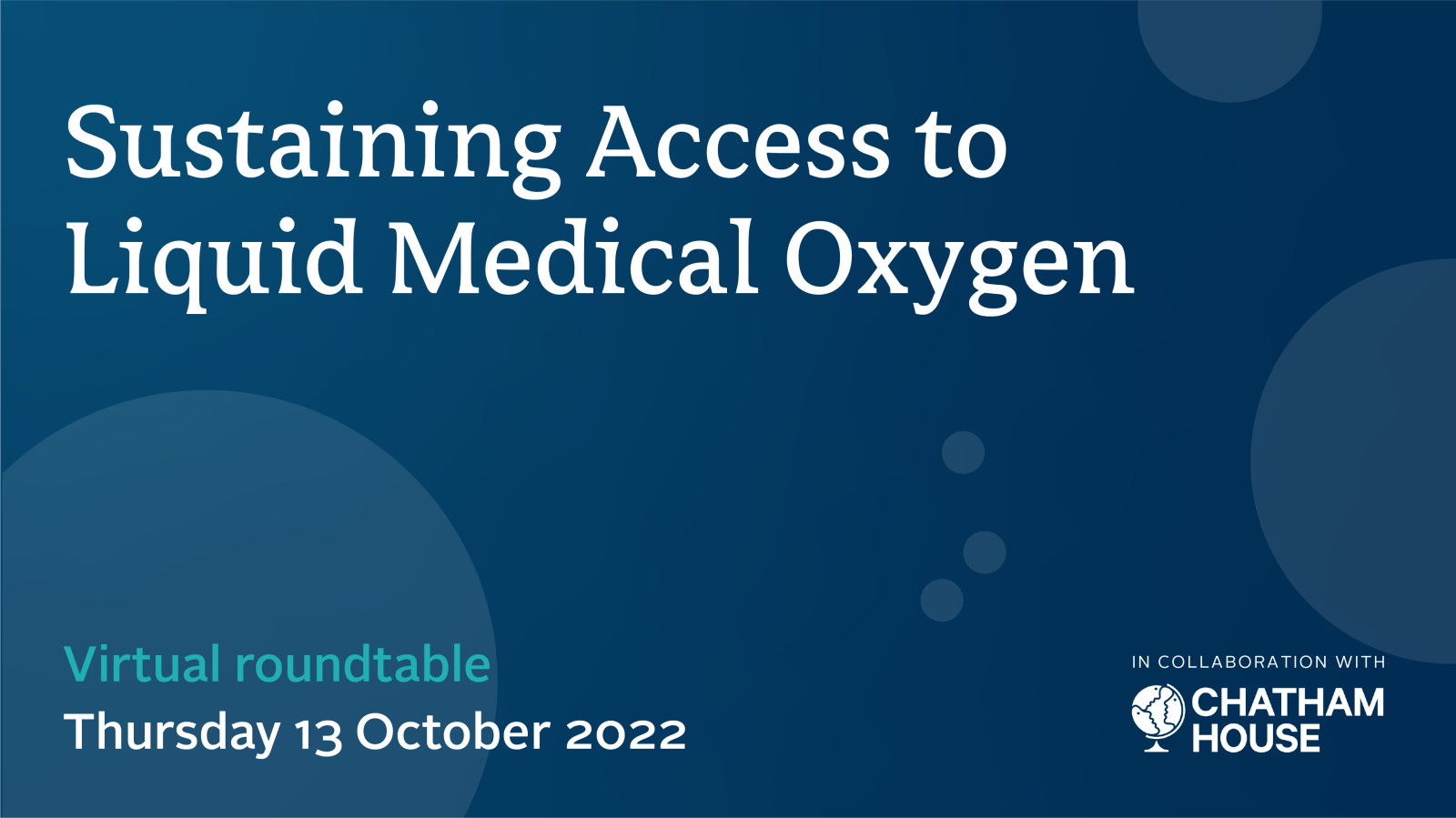 The COVID-19 pandemic has exposed and exacerbated the dire situation LMICs already faced with major shortages and inequity in access to medical oxygen. Medical oxygen is critical not only for COVID-19 patients, but also for treating patients with other infectious diseases such as pneumonia and tuberculosis, and for the survival of those with respiratory distress or chronic respiratory conditions, such as COPD. Listed as an "essential medicine" by the World Health Organization (WHO), medical oxygen is a vital tool for patients undergoing surgical procedures, and for mothers experiencing childbirth complications – to name just a few examples.  

Throughout the COVID-19 pandemic there has been promising engagement in access to medical oxygen from some of the biggest medical gas companies delivering medical oxygen, demonstrating what can be achieved when these players take deliberate steps to address access issues.  
However, progress has been concentrated on emergency management and driven by donor funding to support emergency access. A sustainable, long-term approach to developing a strong and robust market for liquid medical oxygen is critical to protect progress and investments made to date and better prepare for the next big global health threat, but also, importantly, so that pre-existing gaps in medical oxygen access are urgently addressed. 
Previous roundtables held in September, December 2020 and June 2021, which were co-hosted with the Every Breath Counts Coalition, brought key stakeholders from industry, global health and investors together for the first time to share perspectives, build trust and an appetite for working together, as well as explore opportunities to increase access to medical oxygen in LMICs. 
Following on from these ground-breaking roundtables, this event will continue the conversation with a focus on the long term. It will bring together experts to identify solutions to ensure sustainable, continuous and affordable access to LOX in LMICs. By discussing innovative business models, including those utilised by pharmaceutical companies in the case of access to medicine, important learnings can be applied to resolve similar access issues with medical oxygen. The roundtable will aim to unpack tried and tested solutions, be a platform where good practices that ensure long-term sustainability can be shared, and outline roles for liquid oxygen companies and their partners as well as priorities moving forward.