Expanding access to high-quality generic medicines
On Wednesday 6 April 2022, the Access to Medicine Foundation will host an interactive workshop, bringing together experts working with and within leading generic medicine manufacturers. Panellists and participants will discuss current and future roles of manufacturers in expanding access to essential medicines in low- and middle-income countries, drawing on practical examples and key lessons from the industry.
Format
Virtual multi-stakeholder panel discussion
Briefing
The outcome of the workshop will be captured in an anonymised meeting report, to be published in the weeks following the workshop.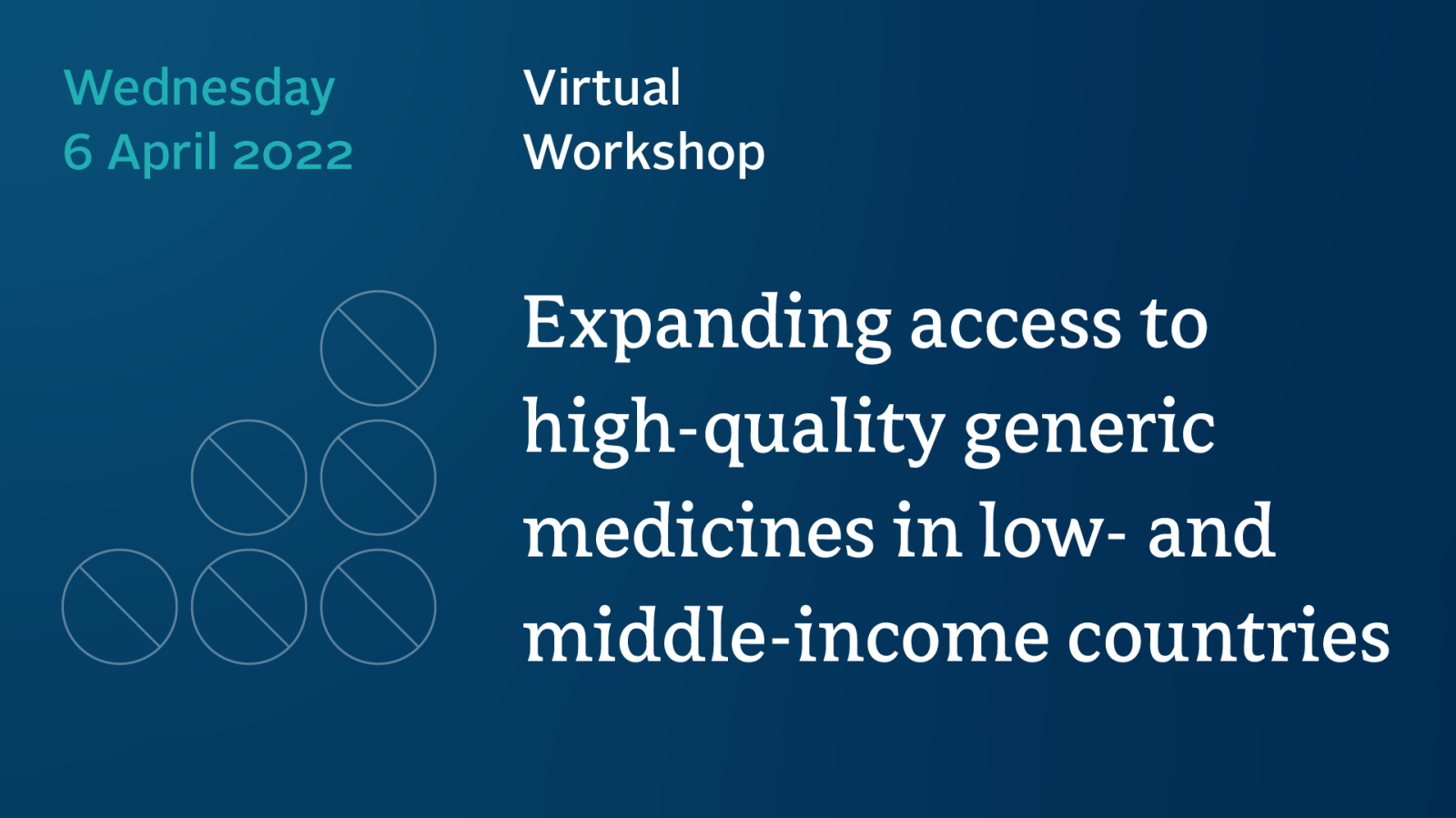 Generic medicines account for an estimated 80% of the world's supply of pharmaceuticals. Using their large-scale manufacturing capacity, generic medicine manufacturers can supply billions of much-needed doses to patients in low- and middle-income countries.   
Yet, generic medicines are not always available or accessible to everyone who needs them and those in the world's lowest-income countries face some of the biggest barriers in access to essential medicines. 
Access to generic medicines is hindered by complex obstacles, such as insecure supply, insufficient manufacturing in low- and middle-income markets, lack of compatibility with local needs, substandard quality of products and unaffordability for patients in low-income countries, who often pay the full cost of medicines and healthcare out of their own pockets. 
Generic medicine manufacturers can play a major role in expanding access to healthcare products by, amongst other strategies, strengthening supply chains, improving manufacturing, engaging in partnerships and investing in R&D for products prioritised by the global health community. 
In this workshop, leaders in the generics industry will discuss actionable ideas and innovative approaches that can be scaled up across the industry to ensure that generic medicines are available to all patients worldwide.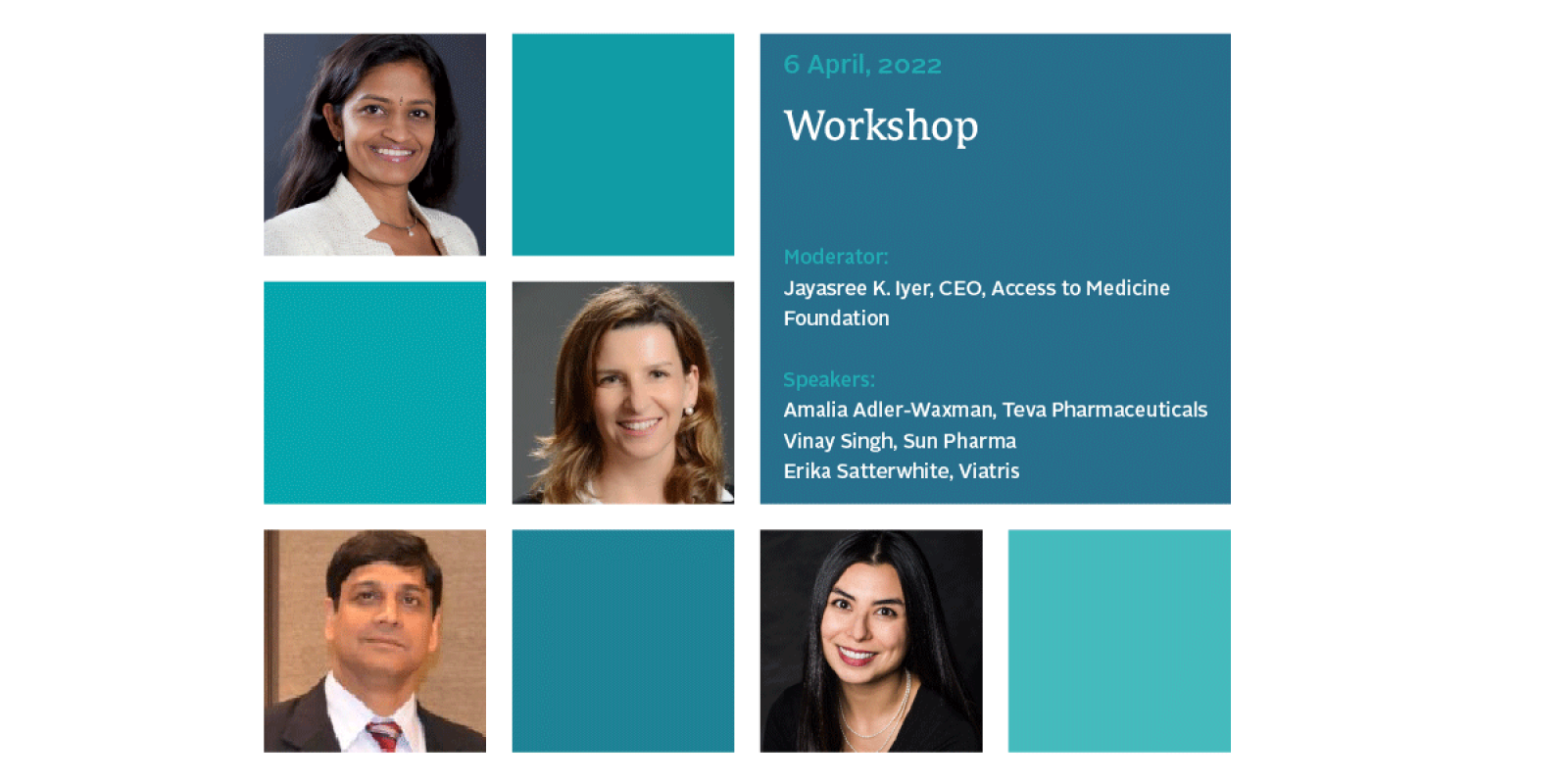 Part I - Industry Perspectives: Strategies to expand access to generic medicines in low- and middle-income countries.  
Representatives from industry will share approaches and examples of how their organisation is working towards improving access on the ground. How do manufacturers leverage their development expertise, manufacturing capability and geographic footprint to address the needs of vulnerable populations? How can voluntary licensing opportunities be used to facilitate access? What further steps are needed to ensure an uninterrupted supply of good quality products? 
Moderator
Jayasree K. Iyer, CEO, Access to Medicine Foundation
Speakers
Amalia Adler-Waxman, SVP, Global Head of ESG and Head of Corporate Affairs International Markets, Teva Pharmaceuticals;
Vinay Singh, Vice President Business Development Emerging Markets, Sun Pharma;
Erika Satterwhite, Head of Global Policy, Viatris.
Part II - Interactive roundtable discussion 
In part two of the workshop, participants will be invited to share ideas and experiences from their own organisations that can help inform future action by the industry. The moderator, Jayasree K. Iyer, will facilitate a collaborative discussion.

The workshop is part of the Foundation's aim to mobilise additional health care sectors in the coming years and bring together a critical mass of companies to drive access at scale.