22 July 2019
Pharma companies in Amsterdam for Foundation workshop on achieving access to medicine at scale
In its latest workshop, the Access to Medicine Foundation brought strategic leads from within pharmaceutical companies together with independent experts and investors to identify steps their companies can take to ramp up access to medicine toward 2030. Their discussions are captured in a new meeting report, now available online.
"Achieving access at scale – reaching millions of people – requires big shifts in how companies plan. The Amsterdam Sessions provide a unique space for the people leading companies' access programmes to learn from each other about their successes and challenges. The goal is a sustainable market that delivers access to medicine for all," says Jayasree K. Iyer, Executive Director, Access to Medicine Foundation.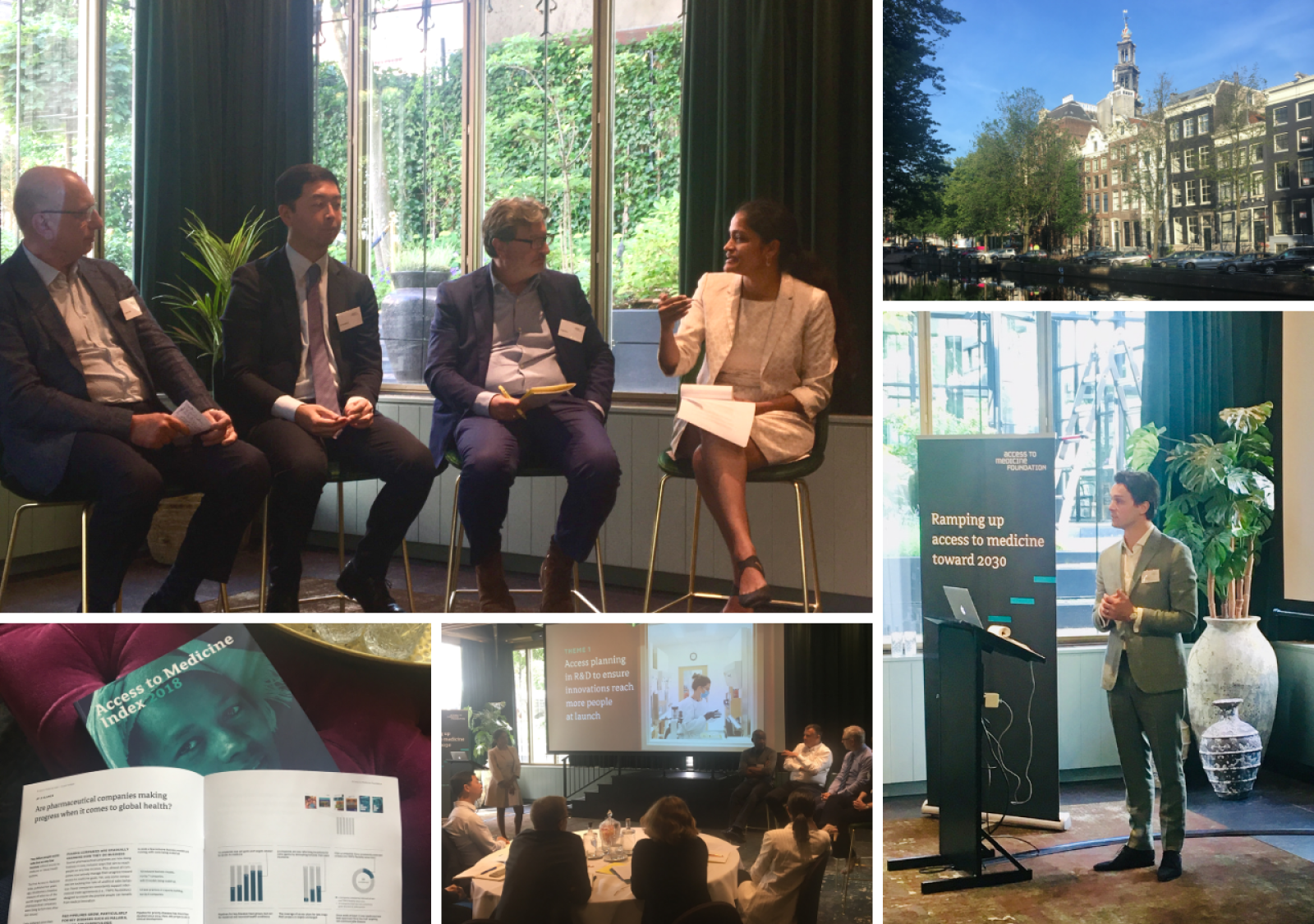 The workshop was the latest in the Foundation's series of Amsterdam Sessions. The title was 'Ramping up Access to Medicine Toward 2030', and two main themes framed the agenda: achieving affordability, and access planning during R&D. 

The Amsterdam Session was chaired by Jayasree K. Iyer, Executive Director of the Access to Medicine Foundation. The participants included senior market access and pricing leads as well as access and global health directors from companies evaluated in the Access to Medicine Index and Antimicrobial Resistance Benchmark. 
Independent experts including Joseph Saba, CEO of Axios International, and Yo Takatsuki, Head of ESG Research and Active Ownership at AXA Investment Managers, deepened the conversation by bringing in global health and investor perspectives. 
Throughout the day, the participants worked through a range of issues – such as the ongoing shift toward medicines that require complex care and supporting technologies, as well as the trend among investors to compare pharmaceutical companies directly based on their access strategies rather than other ESG factors. 

Participants presented their company's approaches to maximising affordability in different health systems, as well as for systematically developing effective access plans during development and the run up to a product's first global launch.
The meeting report is now available online, published under the Chatham House Rule. 

Pharma industry progress on global health since 2008
The springboard for this Amsterdam Session was the Foundation's recent 10-Year Analysis of pharmaceutical companies' activities to improve access to medicine since 2008. Covered in the New York Times, Financial Times and STATNews on its release, it analyses companies' performances in 106 low- and middle-income countries – home to 83% of all people alive today. 
This Analysis found clear evidence of progress, and yet the scale of the access-to-medicine challenge remains vast, with many millions of people living without access to robust healthcare systems.

The 10-Year Analysis covers 20 of the world's largest research-based pharmaceutical companies, which together account for 70% of global pharmaceutical revenues. They include highly diversified companies, such as GSK, Pfizer, Novartis and Sanofi, which all have large generics divisions. Several companies with a narrower focus, such as Gilead and Novo Nordisk, are also included in the cohort.
About the Amsterdam Sessions 
The Amsterdam Sessions each focus on a specific area where pharmaceutical companies have a clear role to play, and are joined by independent experts working within governments, NGOs or the investor community to improve access on the ground. Through moderated working groups, the Sessions facilitate the sharing of best practices and approaches. Participants use the insights to redefine access strategies and internal metrics. 
In turn, the Sessions inform the Foundation's own metrics for tracking pharmaceutical company performance on access to medicine and antimicrobial resistance (AMR). This latest workshop will feed into the Foundation's ongoing review of the methodology for the Access to Medicine Index, which also brings in insights from leading specialists working in multilateral organisations, governments, research institutions, the pharma industry, NGOs, patient organisations and investors. 
The Foundation has organised Amsterdam Sessions on: access to cancer care; best practices and impact; appropriate access and AMR.
About the Access to Medicine Foundation
The Access to Medicine Foundation is an independent, non-profit organisation based in the Netherlands. It aims to advance access to medicine in low- and middle-income countries by stimulating and guiding the pharmaceutical industry to play a greater role in improving access to medicine. The Foundation is funded by the Bill & Melinda Gates Foundation, the Dutch Ministry of Foreign Affairs, Dutch Ministry of Health, Welfare and Sport and the UK Department for International Development.