Amsterdam Session on Global Health Security
On Thursday 3 February 2022, the Access to Medicine Foundation hosted an Amsterdam Session to address the emerging crisis in the global supply of essential medicines and vaccines. By bringing together an expert panel and peers from industry, global health and procurement, the workshop aimed to uncover solutions and best practices to prevent shortages and stockouts of lifesaving products, particularly anti-infectives.
Date
Thursday, 3 February 2022
Format
Virtual multi-stakeholder panel discussion
Participation
This is a closed workshop held under the Chatham House Rule. If you are interested in joining Foundation events in the future, please contact Marijn Verhoef.
Briefing
The outcome of the Amsterdam Session will be captured in an anonymised meeting report, to be published in the weeks following the meeting.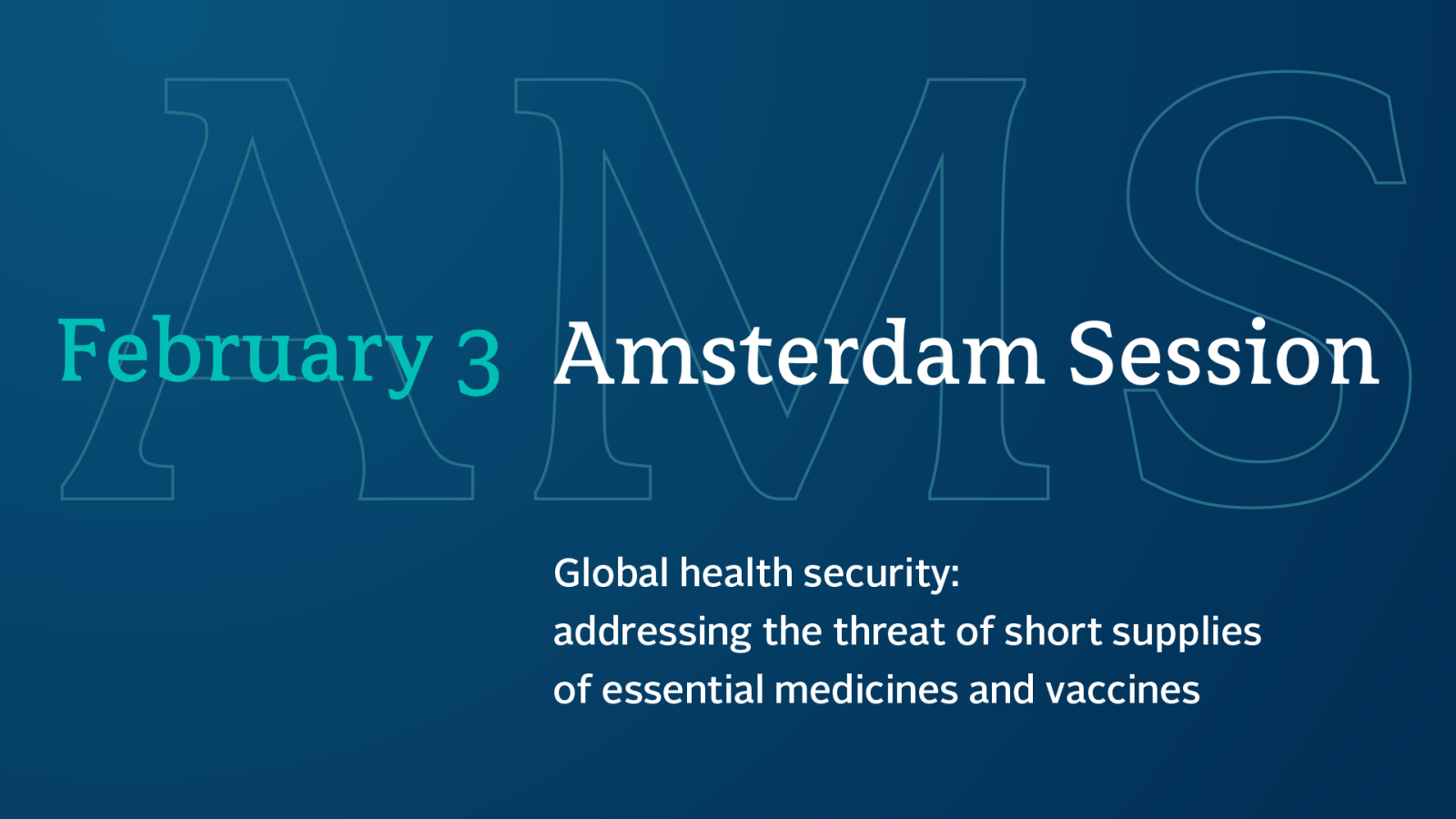 The COVID-19 pandemic has exposed several vulnerabilities within the supply chains of essential health products. For many medicines and vaccines, supply chains rely on just a handful of producers per active pharmaceutical ingredient (API), and demand forecasting and stock data is not always transparent. 
The situation is particularly concerning for anti-infectives, which offer slim margins, and growth in demand is driven by poorer and currently underserved communities. 

Supply chains must become more robust and resilient, so they can better absorb disruptions without threatening the continuous delivery of essential medicines and vaccines to people who need them. It is critical that companies continue to invest in more agile supply chains for these products, and that governments and other large-scale procurers develop new methods of sourcing and paying for products.
To find practical solutions, the Foundation is hosting an invitation-only Amsterdam Session with experts from industry, global health and procurement. Participants will share and refine concrete examples of mechanisms they can put in place to better sustain the manufacturing and supply process. 
The Foundation first drew attention to risks posed by fragile supply chains for anti-infectives in 2018. As the Foundation starts to mobilise additional health care sectors this year, global health security will remain a core focus of its engagement and research. 
Discussion 1 - Industry perspectives: Innovative solutions to sustainably secure raw materials to prevent shortages 

This discussion focuses on how pharmaceutical companies, as well as procurement officials, can contribute to curbing shortages of essential medicines and vaccines, including for infectious diseases. What solutions have companies identified and how can those be scaled up across the industry? How can partnerships be leveraged to ensure sustainable supply chain improvements beyond this current pandemic?
Moderator
Jayasree K. Iyer, CEO, Access to Medicine Foundation
Speakers
Sinead Griffiths, Head of Global Supply Chain, Viatris;
Umesh K, Senior Vice President Global Anti-Virals & Licensing, Aurobindo;
Steffen Lang, Global Head of Technical Operations, Novartis; and
Sreenivas Rao Nandigam, Global Head of Supply Chain, Sun Pharma.
Discussion 2 - Policy makers perspectives: Using procurement mechanisms as a tool to prevent stockouts

Part two of the workshop focuses on what policy makers and other large-scale procurers of essential medicines and vaccines can do to foster a healthy market, including for anti-infectives. What methods of sourcing and paying for health products can contribute to sustainable supply and how can they be scaled up? 
Moderator
Peter Beyer, Unit Head Impact Initiatives and Research Coordination, AMR Division, World Health Organization
Speakers
Jordi Balleste, Unit Chief Procurement, Strategic Fund, Pan American Health Organization;
Janet Byaruhanga, Senior Programme Officer for Public Health, New Partnership for Africa's Development;
Akthem Fourati, Chief of Medicines and Nutrition Centre, Supply Division, UNICEF; and
Glaudina Loots, Director of Health Innovation, Department of Science and Innovation for the Government of South Africa.
About the Amsterdam Sessions 
The Amsterdam Sessions, organised by the Access to Medicine Foundation, provide a unique space for people working with and within pharmaceutical companies to come together and discuss access to essential healthcare products. Through moderated working groups and panel discussions, the Sessions facilitate the sharing of best practices and approaches. Participants use the insights to redefine access strategies and internal metrics. In turn, the Sessions inform the Foundation's own approach to incentivising and stimulating pharmaceutical companies to do more to improve and save lives in poorer countries.
The Foundation has organised Sessions on: access to medical oxygen, lessons from COVID-19, how to ramp up access to medicine toward 2030, access to cancer care; best practices and impact; appropriate access and AMR.